Western Australia 30th Birthday Celebrations
Western Australia gives generously to Radio Lollipop

11 December 2015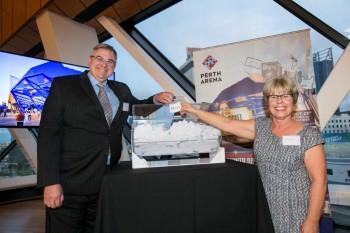 JENNIFER Wellstead is the envy of thousands of Western Australians after taking out this year's coveted Golden Ticket prize – a one year VIP pass to Perth Arena.
Jennifer's entry was the lucky winner of the Golden Ticket draw with proceeds from the raffle going to Radio Lollipop (WA).  Having already taken advantage of her prize, Jennifer has seen Cold Chisel, Neil Diamond and Sam Smith perform and is very excited about the year ahead including opportunities to see the Hopman Cup, Perth Wildcats and the return of the ice hockey next year.
Radio Lollipop Director Jeanette Shorto said the $80,700 raised this year – together with the $297,000 raised from the Golden Ticket in previous years has funded the charity's relocation to the new Perth Children's Hospital in 2016.
"Having just celebrated 30 years of providing care, comfort, play and entertainment to sick children in hospital in Perth, we are so very proud and excited to be part of the future of paediatric health in Western Australia," Ms Shorto said.
"Last month, we toured the new Perth Children's Hospital to see our studio and office space under construction.  Thanks to the generosity of thousands of Western Australians – and the invaluable support of Perth Arena – we have sufficient funding to ensure that these spaces are equipped and fitted out to the best specification in order to continue to entertain the children for the next 30 years."
Perth Arena General Manager Michael Scott was also on the tour and was impressed with the high quality of the new hospital but also with the space allocation for Radio Lollipop.
"At Perth Arena, we are committed to providing an environment where our guests can enjoy themselves and have fun particularly through engagement with music and live entertainment," Mr Scott said.
"To be able to play a part in securing Radio Lollipop's future of providing a similar service to our most vulnerable children is a great pleasure for our staff and for the management of AEG Ogden and VenuesWest.  I'm so thrilled that the Western Australian community has supported the Golden Ticket and Radio Lollipop as strongly as they have over the past four years."
Ms Wellstead said the Golden Ticket was the best prize she could hope to win.
"I love going to concerts and the Perth Arena is such a great venue. I will certainly make the most of this wonderful prize and am so glad the money goes to such a great cause," Ms Wellstead said.
Radio Lollipop will move from PMH to the new Perth Children's Hospital in 2016 and looks forward to being there to greet the children as they arrive.
Location: Perth, WA