Latest News
Collect Tokens in the Bristol Post for Radio Lollipop to win a share of £10,000!

17 February 2017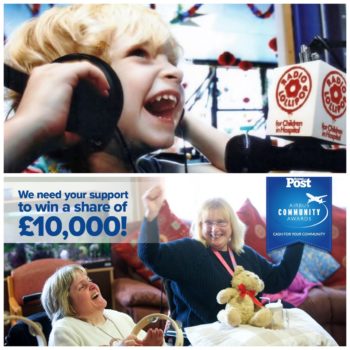 A shout out to all Bristolians!  The Radio Lollipop Bristol Team needs your help!
We are excited to announce that we have been selected to take part in the Bristol Post/Airbus Community Awards and could win a share of £10,000!
We need help with collecting tokens which are being published in the Bristol Post.  The £10,000 prize money will be shared between the top 10 groups who collect the most tokens!
Tokens will be published in the Bristol Post from Monday 20th February to Monday 20th March!
The more tokens we collect and the local community collect for us, the more chance we have of winning a share of the awards money!
Keep an eye out for a special feature in the Bristol Post on Friday 17th February showcasing Radio Lollipop along with the other registered groups and details of how to collect the tokens!
Please spread the word to all your Bristolian friends and family!
Thank you!
Location: Bristol