USA
Volunteer Awards in Miami

3 March 2017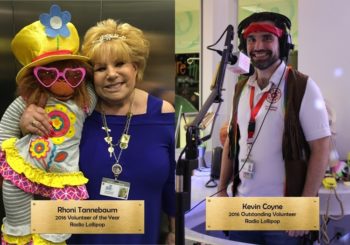 Every year Volunteer Resources at Nicklaus Children's Hospital holds a recognition event for their Volunteers. This year's event took place on Friday, February 25th at the Rusty Pelican in Key Biscayne, Florida.
At the event, two Radio Lollipop Volunteers were recognised:
Rhoni Tannebaum was awarded Nicklaus Children's Hospital Volunteer of the Year
Kevin Coyne was awarded as Radio Lollipop Outstanding Volunteer.
Rhoni, aka, Queen Rhoni (Lollipop name), nominated by Volunteer Resources Department, has been a Volunteer for 20 years. Rhoni is an active fundraiser and manages the Radio Lollipop birthday celebration with patients. As our largest event each year, Improv Comedy Night, Rhoni and her husband Ned support Radio Lollipop with a $5,000 gift. She also supports throughout the year with on-going toy donations and organizes and coordinates all hospital bake sales with approximately $3,000 raised each year for Radio Lollipop. Many years ago, Rhoni was the founder & coordinator of the Radio Lollipop annual fundraiser Sock Hop.
Rhoni is consistently connecting with community members and outside of her personal donations, she encourages all of her friends and family to donate to Radio Lollipop, and connects us with companies willing to donate in-kind items. For example, our upcoming 21st birthday bash is Wizard of Oz themed (Rhoni's idea), and she has a list of about 15 vendors she is reaching out to for donations. She just received a donation of a yellow brick road for the party.
Kevin, aka KMPA, nominated by Volunteer Resources Department, has been a Volunteer for 3 years and a member of our local management team as Education Chair. Kevin is Lead planner & facilitator during our regular training sessions for other Volunteers and has received phenomenal feedback about his training sessions. Kevin is a popular on-air Presenter and is an overall amazing Volunteer.
You can view highlights from the Awards Evening in the following YouTube videos:
Location: Miami