UK
Southampton stalwart Lee scoops hospital hero award

14 April 2017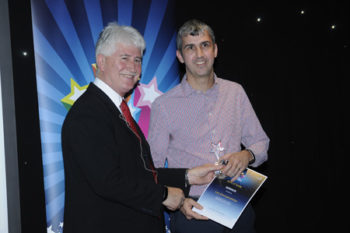 The tireless support and energy of Radio Lollipop Southampton stalwart Lee Donnarumma has been recognised with a prestigious award.
After more than two decades as the driving force behind the Southampton branch, Lee has received a Hospital Heroes award from University Hospital Southampton NHS Foundation Trust.
Lee was presented with the accolade at the hospital's recent annual staff awards, which took place at St Mary's Stadium in Southampton.
The 39-year-old, who was Radio Lollipop Southampton's main fundraiser for ten years before becoming chair last year, picked up the Gift of Time award, in recognition of volunteers who go the extra mile to support the hospital and its patients.
Lee, who beat 11 other finalists, said: "I never in a million years expected to be nominated for a Hospital Heroes award, yet alone to win, and so to say that I am truly humbled is an understatement.
"It's a bit clichéd but Radio Lollipop is very much about the team. We have some fantastic volunteers, who are all heroes in my book."
Over the last ten years alone, Lee has raised just under £31,000, which has kept the Southampton branch afloat.
He has been the brains behind numerous fundraising events, including the station's popular Lollifest bands night, now in its sixth year.
Despite having three children and a full-time job which takes him around the country, Lee stepped up and took over the honorary chair role in January 2016.
His colleagues say his infectious enthusiasm ensures the important service to children on the wards continues – and that Radio Lollipop Southampton would not be the same without him.
Location: Southampton