Timeline
Studio opens at new Monash Children's Hospital

18 April 2017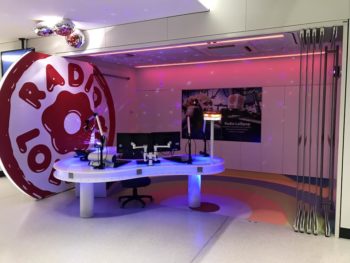 CHILDREN relocating to the new Monash Children's Hospital in Melbourne found some familiar faces and were greeted by a brand new, state-of-the-art Radio Lollipop studio!
Thanks to the Chain Reaction Women's 300 Bike Ride Challenge, the generosity of thousands of Victorians and the support from local companies Baezinger Coles and Sun Sets Australia, Radio Lollipop has built their first Melbourne radio studio adding live broadcasts to their strong ward-based play service.
During Children's Week at Monash Children's Hospital in 2011, Radio Lollipop had a "pop-up" studio in the foyer which launched the charity and ward visiting service. The success of the "pop-up" studio formed a strong foundation for the Radio Lollipop service and was a major factor in determining its location in the new hospital.
Having started with Radio Lollipop at Great Ormond Street Hospital (GOSH) in London, Honorary Chairperson Greg Hall leads our Monash volunteer team and could not be more excited about their new studio.
"I love music and I think it is something that most children can relate to. I saw first-hand at GOSH how much value the live radio broadcasts add to our Radio Lollipop shifts around the world and can't wait for Monash to have its own."
"Monash is such a busy health campus and it is so exciting to be part of the new hospital. We love visiting the patients and their siblings for a game of cards, a stupid dance, terribly bad jokes and the occasional party and now we have two hours of live music and entertainment to keep the kids engaged and not focused on their ailments. It's the best two hours of my week!" Mr Hall said.
Melbourne designers Baezinger Coles together with set builders, Sun Sets Australia, created a bespoke moving wall from which the radio studio pulls out and slides back after each shift.
Radio Lollipop's play service launched President and Founder, Hedley Finn MBE said the new Melbourne studio gave volunteers something extra in their bag of tricks to entertain the children.
"I am so very excited that Radio Lollipop is part of the new Monash Children's Hospital and am looking forward to seeing our volunteers bring this wonderful studio to life. I am so grateful for the support and expertise of Baezinger Coles and Sun Sets Australia to design a unit that could accommodate our studio."
Please give generously to help Radio Lollipop increase our shifts and see as many sick children in Melbourne as possible. You can donate, apply to be a volunteer or send us an enquiry to find out how you can help.
Location: Australia