UK
#BristolRocks with Radio Lollipop

28 September 2017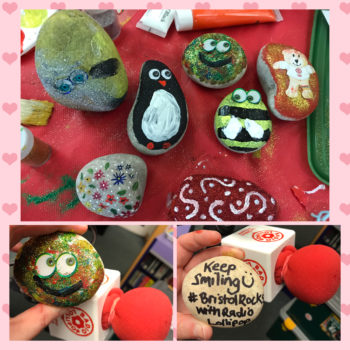 The latest craze/phenomenon that is sweeping across the city of Bristol came to visit Radio Lollipop at The Bristol Royal Hospital for Children on Wednesday 27th September.
The idea behind #BristolRocks is to decorate rocks and hide them in various places around the city of Bristol for people to find to brighten up their day.
The Wacky Wednesday Team joined forces with Dawn Aldred, who is responsible for starting the Facebook Group, to organise a fun-filled rock painting session so the children could learn how to paint their own rocks.
A big thank you to Dawn for coming to visit and providing the rocks!  It was a rocktastic evening!
It's official.  We are all now Bristol Rockoholics!
Location: Bristol